You are here
06/16/2014 City Council special meeting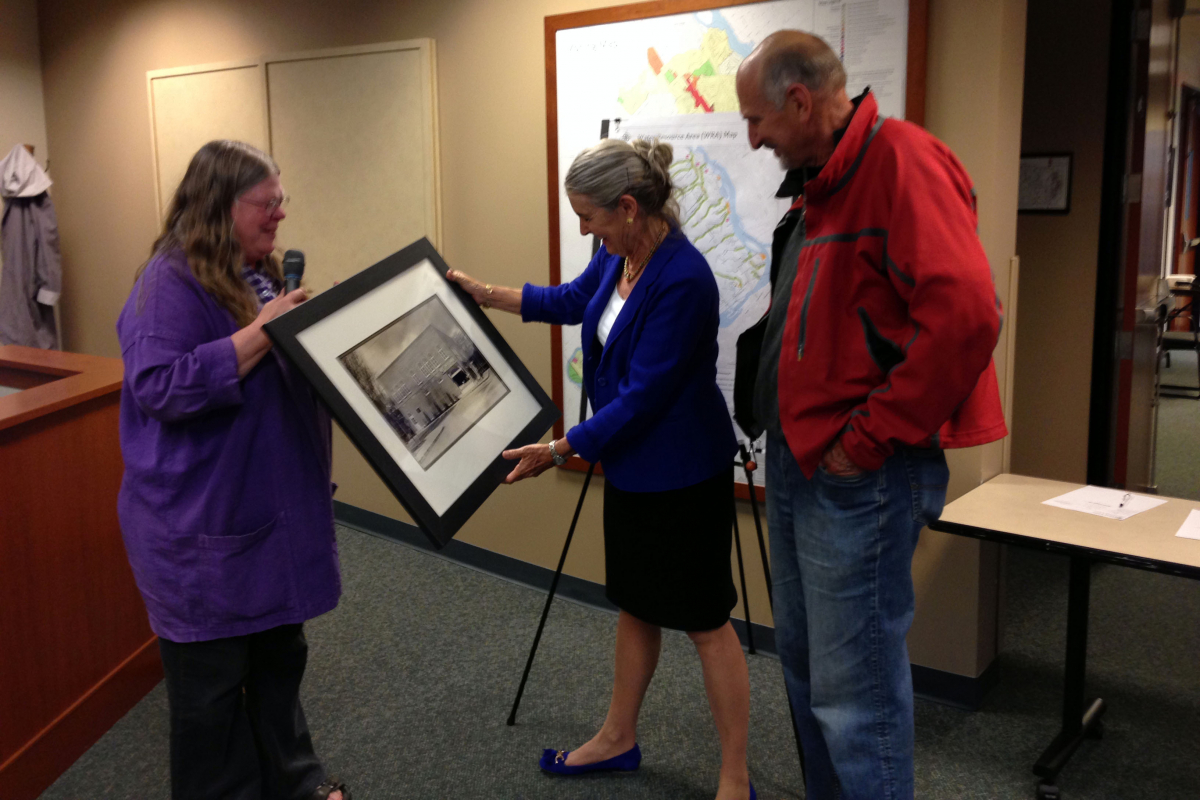 The West Linn City Council held a special meeting June 16, approving street improvement contracts and finalizing the amendments to the water resource area chapter of city code among a long agenda of items.
But one of the first items on the agenda was to thank longtime West Linn resident and city advocate Diane Wustrack for her years of service to the city. She is moving from Oregon to California and will be missed.
West Linn Committee on Citizen Involvement
West Linn has a longstanding commitment to citizen involvement on land use and legislative items. The creation of a Committee on Citizen Involvement (CCI) is required in Oregon Statewide Planning Goals and Guidelines Goal 1.
"To develop a citizen involvement program that insures the opportunity for citizens to be involved in all phases of the planning process," states the first line of Goal 1.
In prior years, the city council designated CCI responsibilities to the planning commission. However, this year, the city council requested the CCI be comprised of the city council, the planning commission chair and the historic review board chair.
This change allows the city council to review, encourage, suggest and implement a robust citizen involvement program that is in adherence with the state goal and is consistent with the council's Citizen Engagement 2014 council goal.
On June 16, the recomposed CCI met for the first time. At the meeting, the committee heard from John Morgan of Morgan CPS Group, who explained the history and the benefits of CCIs. The council explored the suggested format for the meeting and the reasons for the council to consider adopting a resolution to officially form the CCI.
"The council has worked hard on our rules, our processes," Mayor John Kovash said.
The council is expected to vote to formally form the CCI during its July 14 meeting.
Community grants
The city council pulled one item off the consent agenda, community grants, in order to consider a current fiscal year request of $1,750 for the West Linn Historical Society to set up as a nonprofit.
In April, members of the Citizens Budget Committee reviewed all community grant requests and recommended an approved list.
The committee received 18 grant requests totaling $39,539 for the $20,000 available grant funds budgeted in the second year of the 2015 biennium.
The citizen members recommended that the city council award 17 organizations $19,189 in funding leaving $811 undesignated in the reserve account for use throughout the fiscal year.
The awarded grants are:
Willamette Living History Committee — $1,500
West Linn Community Chorus — $1,200
West Linn Community Task Force — $2,000
Friends of Maddax Woods — $500
Happy Trails Riding Center — $1,700
July 4th Fireworks Event — $1,500
MOMS Club of West Linn — $500
AWOL Dance Collective — $500
Friends of McLean House — $500
Clackamas Women's Services — $500
West Linn Lions: Screening — $289
West Linn Lions: Shoes and Socks for Kids — $2,000
Resiliency Organization of West Linn — $2,000
West Linn Food Pantry — $2,000
West Linn Farmers Market — $1,000
Historic Willamette A Main Street Community — $1,000
Rosemont Ridge PTO — $500
For more information about the city's community grants program, visit our Web page.
Water Resource Area
In the works since 2010, the city council has now completed of a repeal and replacement of Community Development Code Chapter 32: Water Resource Area.
The WRA boundary comprises all streams, wetlands and riparian areas plus an additional distance or setback to reduce the likelihood of eroded material (soil, pollutants, etc.) from getting into the stream or wetland.
West Linn has about 26 lineal miles of streams, wetlands and riparian corridors, not counting the Tualatin and Willamette rivers.
The city needs to protect WRAs to be in compliance with state goals, to maintain water quality, to aid in flood mitigation, to protect wildlife habitat and to add recreation/aesthetic value to West Linn.
Since its adoption in 2007, the water resource area chapter in the city's community development code has been beset with problems which gave rise to Oregon Land Use Board of Appeals decisions, having to purchase property to avoid a takings claim and continued difficulty by city council, planning commission, staff and the public in the use and interpretation of the WRA chapter.
The planning commission initiated a review of the chapter in 2010. In that time, an ad hoc group met 24 times (resulting in a rewrite of the chapter), 1,700 Measure 56 notices were sent to affected homeowners, the planning commission held public hearings in January and February, and Metro staff has reviewed the language three times.
To address these problems, the planning commission recommended that CDC Chapter 32: WRA be repealed and replaced by with new language.
Changes to the CDC chapter include altering how all streams are regarded, mapping, increased flexibility in setbacks, more definitions and illustrations, additional hardship provisions, encouragement of habitat-friendly practices, and mitigation and re-vegetation.
The mayor recused himself from this agenda item as he has received a Measure 56 notice that he would be affected by changes to this code.
On Monday, four minor changes were proposed from when last presented to the council for greater clarity regarding hardships, mitigation and re-vegetation, graphics and dedications.
Councilor Jody Carson said having the clarity in the language will make it a much better process for everyone.
The motion passed unanimously.
Annexation
This new ordinance simplifies the annexation process and ensures compliance with state law and the Metro code. The new code streamlines the previous two-step, two-night process, thus saving city time and money.
"The two step process on two separate nights was a cumbersome process," Carson said. "I'm very appreciative of this change."
The city council has not processed an annexation application since 2006, however the city is expecting new requests to annex to fill in "islands" through the city that are not currently part of West Linn.
To familiarize the council with the annexation process, a work session was held May 5. At the work session, the council approved a project to revise the annexation code to simplify the process and eliminate redundancies between the West Linn Municipal Code, Community Development Code (CDC), state law and Metro code.
The council gave specific direction to:
1.  State specifically that nothing prohibits the council from completing the two required steps at the same meeting.
2.  Simplify the notice requirements for the second step and require compliance with state law and Metro code.
3.  Require a hearing for the second step when mandated by state law or Metro code.
To simplify the annexation process and eliminate redundancies, sections of the city code were recommended for repeal because those sections are repetitive of state law and provide details that do not need to be codified, such as the requirements for explanatory statements. Similarly, another section was repealed because it is duplicative and creates an opportunity for conflict between the municipal code and the CDC.
The council unanimously approved the first and second readings of the change of the ordinance.
Master Fees and Charges
The city council also approved proposed updates to this year's Master Fees and Charges.
The approved updates include:
SDC fees indexed for inflation using ENR CCI (20-city average) effective July 1
Utility fees reflect 5 percent increases as approved in the adopted budget except for commercial SMF fees, which we are not changing pending further committee review
Municipal court fines – updated State fine schedule and other program fees
Business licenses – no fee changes, but continues to be under review
Building, planning, park and public words fees – no changes
Miscellaneous language edits throughout
Asphalt contract
The city council also voted to approve two separate contracts for summer street improvement projects.
The 2014 Road Improvement Project provides asphalt pavement repair/reconstruction, slurry seal, drainage improvements and water main replacement along previously identified streets throughout the city.
The city council was told that water main replacement and full street reconstruction of Blankenship will result in a road closure at this location for approximately three weeks during the summer months from Johnson Road to Debok Road.
Projects will include 4,500 tons of concrete, with the majority of it along Blankenship.
Other streets in this year's program include: 
19th Street (Johnson Road to Blankenship Road)
Margery Street
Farrvista Drive
Failing (Buck Street to Dillow Street)
Buck Street (Elliott Street to Holmes Street)
Parkside Court
Blankenship Road (Virginia Lane to Johnson Road)
The council approved a contract with M.L. Houck for $956,477.70.
Concrete Contract
After some discussion, the council also approved a contract for concrete street improvements.
The concrete street improvement project provides for concrete pavement reconstruction, drainage improvements and water main replacement along previously identified streets throughout the city that have failed beyond simple asphalt repair. Concrete provides a long-lasting replacement for failed existing low volume local roads.
Trying to mitigate the raising costs of oil-based asphalt, the city is trying a form of concrete for street improvements. You can drive on it after a couple of days rather than the standard four or five.
"This is kind of a pilot project," City Manager Chris Jordan said. "We thought we would give this a shot this year."
These projects will use 6,600 square yards of concrete. These streets will be closed to traffic for a couple of days for the concrete to cure, but the city will be working close with residents to work with any special needs.
Streets in this year's concrete street project include: 
Geer Street
Beam Street
Tompkins Street (Failing Street to End)
Century Lane
"I'm a little hesitant to put more money into less streets," Kovash said.
City staff told the council that though concrete is more expensive than asphalt, it is cheaper to maintain and it lasts longer.
"Our hope is that it will last a lot longer," Assistant City Engineer Erich Lais said.
"I think it is worth giving it a small test," Carson said.
The council approved the contract with Brown Contracting for $648,595.
 "I think it's actually pretty prudent to look at alternatives to oil-based street products," Councilor Mike Jones said.
For a complete list of public works projects for this summer, visit our website.
***
The next city council meeting is scheduled for Monday, July 7, at 6 p.m.