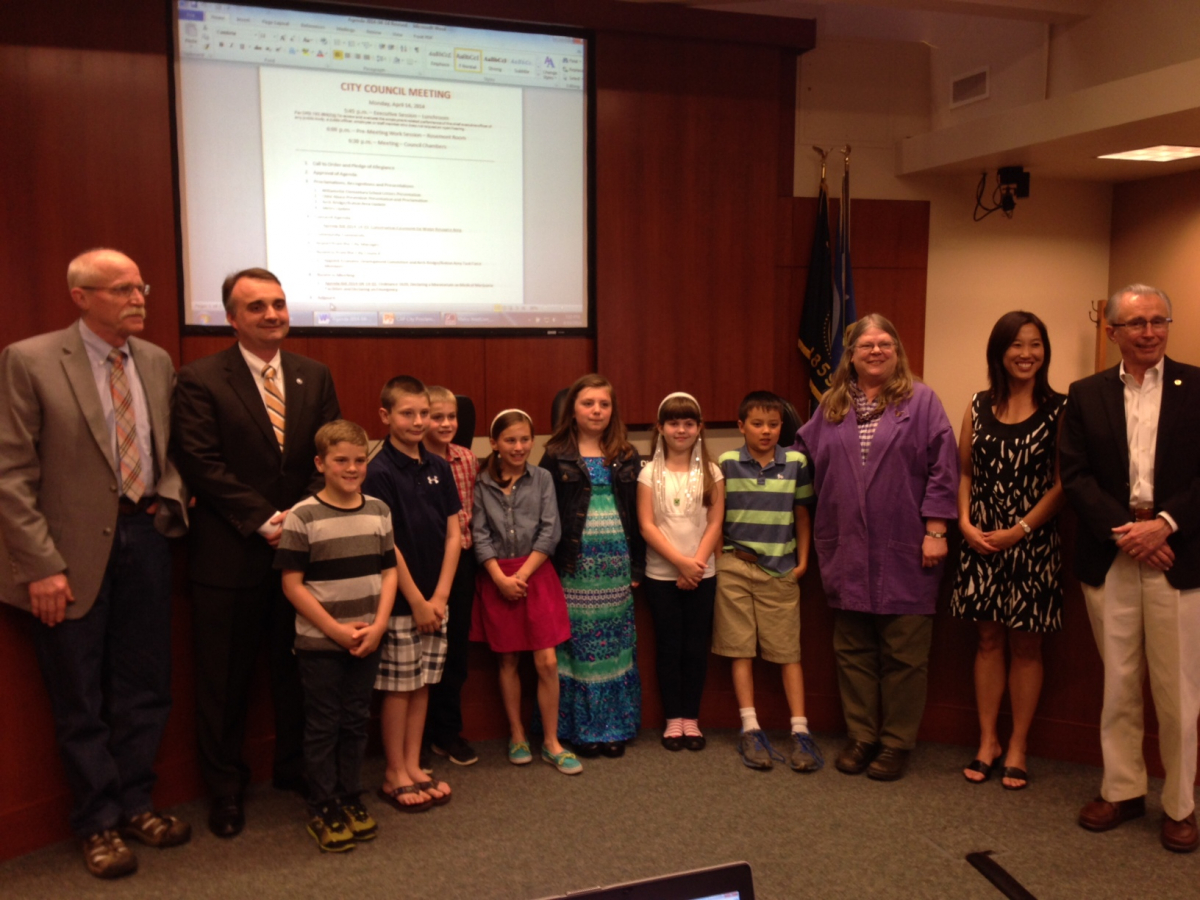 The city council heard lots of ideas from a range of sources — from kids to professionals — during its regular meeting April 14. The agenda included several presentations as well as a vote on a medical marijuana dispensary moratorium.
Wise words from kids 
Tying in to the city's "Plan the Heart of West Linn" initiative, third-graders from Willamette Primary School read letters to the city council about what they think West Linn needs, including more parks, safe places for kids to play, a "treehouse for older kids," cutting down unsafe trees, more jobs, more trails for "walking around" instead of sidewalks, a new general store and more animal shelters.
Students told the council:
"I can't think of many parks that have a treehouse. I encourage you to be the first."
"I'm wondering why West Linn didn't put in trails in the first place."
"Putting in trails would solve a lot of problems. ... I vote for trails."
"Trees are falling on houses. ... I'd like to see you spend money on removing dangerous trees."
"We need to have a place where kids my age can have organized activities."
"$2.99 for a cat would be good."
Arch Bridge/Bolton area update 
Moving to the Arch Bridge and Bolton area planning project, the council heard a presentation from Mark Hinshaw of LMN Architects and Anne Fifield of ECONorthwest.
A study of the Arch Bridge and Bolton neighborhoods was conducted and it identified residential and business needs, as well as designating areas prime for infill and potential sites for a town center.
The city kicked off the project in January. The project will be guided by an advisory committee comprised of various community members that will meet throughout 2014. A technical committee with staff from various agencies will also provide input and guidance.
Draft concepts and recommendations are expected in July and a draft plan will be reviewed by the City Council before the end of 2014. Any required regulatory changes are expected in early 2015.
The project is funded through a $220,000 Metro Community Planning and Development grant, which is funded through the construction excise tax. The city is providing an $80,000 in-kind match.
As part of this planning process, the city is holding a three-day open house in a storefront in West Linn Central Village, asking citizens to stop by and give their input as to what West Linn needs and what priorities are. April 14 was the first day of the open house and Hinshaw told councilors that several dozen people had stopped by.
The city also hosted two community workshops on the same topic on April 14 and April 16.
Over the last couple of months the city held two meetings with an advisory committee and a technical committee and worked to develop an overarching goal, objectives and principles.
It came as no surprise that the study found that West Linn is an affluent city that is attractive to families with kids. Households with children will always be attracted to West Linn, councilors were told.
However, the city has not seen much growth over the last decade and housing choices are limited to mostly detached single-family homes, leaving few options for aging residents wishing to downsize but not leave the city.
According to apartment data, there are low vacancy rates and it is easy to attract renters in West Linn. Fifield told the council there is potential "pent-up" demand for smaller housing units in the city.
The study also looked at vacancy rates and rent prices for office space in the area. Office vacancy rates average eight percent with rent hovering around $20 per square foot a year. There is reasonably strong demand for office space in the area.
As for retail space, there is a six percent vacancy rate with an average rent of $24 per square foot per year.
"There's a healthy market for commercial space, but not great demand," Fifield said.
With at least 250 home-based businesses in West Linn, there is a potential market for small shared office spaces.
Hinshaw said though there is no obvious space in the area north of Interstate 205 to create a center for redevelopment, there are certain spots prime for infill. However, south of I-205, there are many spaces for redevelopment, especially the vacant lot along the river next to West Linn Paper Company, who has indicated a willingness of working with the city with that site.
As for transportation, there are no severe needs for safety enhancement, but there could be improvements to bicycle lanes and upgraded crosswalks. There is also a potential of eliminating one of the I-205 ramps at Highway 43. ODOT has already begun to study this.
By eliminating a ramp, it would open up some space for an emergence of a town center.
Another idea is to re-purpose the Broadway Bridge, which is one of two bridges one block apart from each other that cross I-205, to accommodate other uses such as bicycle and walking routes.
Planners will come back in a month or two to the city council with a more full-bodied presentation with recommendations as to what direction the city should take.
"We are looking forward to the continuation of the process," Mayor John Kovash said.
Metro update
Metro District 2 Councilor Carlotta Collette gave the city council an update on Metro's recent work, including natural areas, Willamette Falls, land use, transportation, solid waste and recycling, visitor venues and the zoo.
Child Abuse Prevention Month
Children's Center gave a powerful presentation on child abuse prevention and Mayor John Kovash read a proclamation calling April Child Abuse Prevention Month.
Flier from Children's Center:
Worried about a child?
You may be their only hope. Please don't ignore your instincts.
Reporting child abuse takes courage. Be brave for a child.
Call 971-673-7112 or 911 to report your concern for the health and safety of a child.
Become part of the solution. Learn how at childrenscenter.cc.
Know the signs of abuse:
Unexplained burns, cuts, bruises, or marks
Inappropriate knowledge of sexual acts
Fear of adults or a particular person
Extreme hunger or eating disorders
Nightmares and bed wetting
Apparent lack of supervision
Acts of aggressiveness or withdrawal
Reluctance to go home
Children's Center is located at 1713 Penn Lane, Oregon City.
City manager's report
City Manager Chris Jordan announced the hiring of new Planning Manager John Boyd. The more about him here [1].
Appointments
The city council made appointments to the economic development committee and the Arch Bridge/Bolton Area Task Force.
Marijuana moratorium
Having discussed the issue at a work session April 7, the city council wasted no time laboring over whether or not to impose a yearlong moratorium of medical marijuana dispensaries in West Linn.
Cities across the Metro area are declaring similar moratoriums, including neighboring city Wilsonville.
New state legislation, Senate Bill 1531c, allows cities to adopt a one-year ban on registered medical marijuana dispensaries, lasting from May 1 to May 1, 2015.
Assistant City Attorney Megan Thornton told the council this is not a permanent measure, it just prevents the city from being one of the first guinea pigs if recreational marijuana use and sales qualifies for the November ballot and passes.
There are nine locations within the city of West Linn where such dispensaries could be located. (See map, below.)
Councilor Jody Carson requested that city staff "come back in the near future" to look at zoning ordinances or changes that would provide some guidance for medical marijuana centers.
Thornton said the issue will come back to the council at the start of January 2015.
Councilor Mike Jones thanked Carson for bringing the ordinance to the city council.
"We are not taking a stand, we are trying to alleviate the expense of being a groundbreaker," Jones said.
"We are not going to be at the cutting-edge of what is going to happen, but we are going to follow this," Kovash said.
The first and second reading of the ordinance was moved by Carson, seconded by Frank and was approved unanimously.
***
The next city council meeting is Monday, April 21, at 6 p.m.