Kids' Summer Reading Program 2014
New this year: register online! (Library card required)
The West Linn Public Library is pleased to support PAWS Animal Shelter in West Linn during the Summer Reading Program. Summer readers are challenged to read more than 75,000 minutes. When they do, local businesses will pledge their support to PAWS. It's a win-win -- our summer readers read more minutes, and our local businesses make a connection with PAWS. (JULY 1 UPDATE: We have reached our collective goal of 75,000 minutes so we're now challenging each age group to reach 75,000 minutes!)
Here's what to do: Register at the library or online. Then read 20 minutes a day for 25 days (500 minutes) this summer to reach your goal and win a free book, a prize packet, and an entry into the grand prize drawing!
Progress
We've reached our goal but we're still going! As of August 27, kids have read 298,306 minutes!

Events
All shows are on Tuesdays at 2:00pm and 4:00pm. Space is limited at all programs. Please arrive on time.
June 24 - Jugglemania
We welcome back Rhys Thomas for an afternoon of juggling, interactive comedy, magic, and more! Ages 4-12.
July 1 - Christopher Leebrick
A dynamic, high-energy storytelling performance. Ages 6-12
July 8 - Pink Pig Puppet Theater
Join us for some silly stories and adorable puppets. Ages 3-8
July 15 - LEGO Movie Screening
Everything is awesome! Rated PG Ages 4-12
July 22 - Border Collies International
Make friends with this performing canine team of rescued Border Collies. **This program will be held at Hammerle Park** Ages 4-12
July 29 - The Alphabeticians
Mr. E and Mr. Hoo are always so much fun! An engaging and interactive music performance. Ages 3-8
August 5 - Presto the Magician
Presto performs entertaining comedy and magic in our Summer Reading finale show! Ages 4-12.
Dates to Remember
June 13: Sign-ups begin
July 7: First day to pick up prizes
August 31: Grand prize drawing and last day to pick up finishing prizes
Prizes
$50 Clackamas Town Center gift card
$50 Barnes & Noble gift card
$50 Amazon gift card
Giant stuffed panda
Presto the Magician party
4 Trailblazer tickets
Parking
For Tuesday events this summer, Central Village is allowing library patrons to park in a designated area of the lot along Highway 43 (see yellow area on map below). Do not park in any other area of their lot if you are visiting the library. Please note that this agreement with Central Village is only for Tuesday afternoon events during the summer.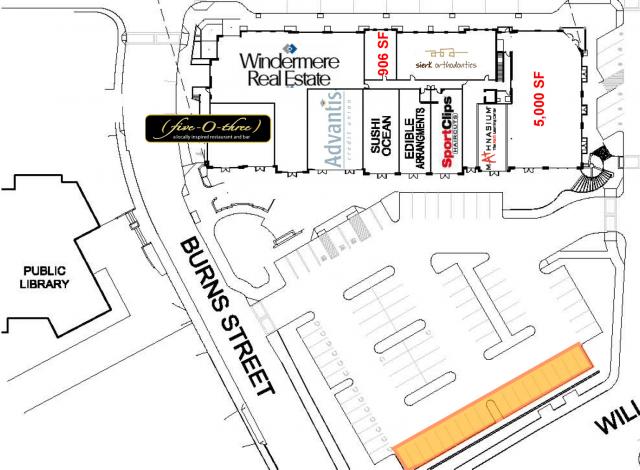 Click any thumbnail image to view a slideshow