You are here
LED Street Lights
Portland General Electric (PGE) crews have successfully completed conversion of cobrahead streetlights to light-emitting diode (LED) lights in many West Linn neighborhoods. PGE installed the new streetlights because they are more cost-effective, sustainable, and provide better quality light than traditional high-pressure sodium (HPS) lights.
The City has over 2200 light fixtures and over 900 were converted. The total cost savings to the City as part of the LED conversion is estimated at $20,000 per year. Street lights cost the City $295,000 per year which is paid out of the City's street fund.
View areas within the West Linn City Limits where LED streetlights have been installed using the map link at the bottom of this web page.
Before (HPS) and After (LED) Photo: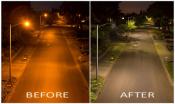 LED street lights offer several advantages.
Better visibility. Compared to the traditional orange/yellow light, LED streetlights provide a white directional light, creating more uniformity.
Dark-sky friendly. The LED lights chosen by PGE allow little to no uplight, reducing light pollution and allowing people to see stars and planets more clearly.
Energy savings. LEDs use 60 to 70 percent less energy than typical neighborhood streetlights, so energy costs will be lower.
Longer life. LED streetlights are expected to last more than four times longer than current streetlights. That means fewer outages and fewer repair trips.
Recyclable. LED streetlight components are recyclable. Current streetlights have components that are not recyclable.