The City of West Linn is proceeding with the water system improvement project that will replace deteriorated sections of the existing water mains, services and hydrants.
The planned improvements will substantially improve water quality, capacity, reliability, and save the City maintenance resources. This year's project includes water main replacement in four general areas (see map below). Project# PW – 1219, 1303, 1304, 1305
These improvements are being made as part of a planned capital improvement program with no additional expense to adjacent property owners. This year's work is scheduled to begin on March 5th, 2013 and is anticipated to be complete by June 15th, 2013. 3 Kings Environmental, Inc. has been selected as the contractor to do the water main replacement work. As the project contractor, 3 Kings Environmental, Inc. will be responsible for all aspects of the work including safety, access, cleanliness, etc.
Due to the nature of the work, there may be some traffic control/access changes during construction. There will be some construction noise that will be kept to a minimum during all operations. In addition, there can be a short in duration water supply disruption in order to bring the new system in service but it is a normal part of the water main replacement process.
3 Kings Environmental, Inc. and the City appreciate your patience while this important construction project is being completed. Should you have any questions and concerns, please feel free to contact 3 Kings Environmental, Inc.:
1-360-907-4512 Jim Wilson, Construction Supervisor
1-360-624-5126 George Schmidt, Civil Division Manager
City of West Linn:
(503) 722-5518 Lance Archer, Inspector
(503)742-8615 Jim Whynot, Water Maintenance Supervisor

The map below shows the four project locations throughout the City
Click on the map project location to see a detailed map of the project area
or
Use the link at the bottom of this page for a printable version of the map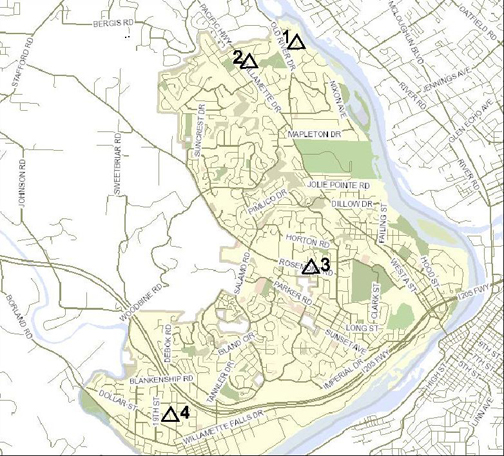 The maps used on this web site are for informational purposes and may not have been prepared for, or be suitable for legal, engineering, or surveying purposes. Users of this information should review or consult the primary data and information sources to ascertain the usability of the information.